Whenever possible, I avoid buying food at Walmart. Instead, I buy my meat in bulk at Costco, which tends to be of much higher quality, and purchased in bulk quantities rivals the lower cost of Walmart meat, but is much better, in both quality and flavor.
And I usually buy my produce and eggs at Sprouts Farmers Market.
However, there's a Walmart Neighborhood Market right across the street from me, and sometimes, if I'm in a pinch, I'll run over there and buy something I need right away. Not very often, but it happens.
One of the meat products I buy at Costco is frozen hamburger patties. They carry three different versions of various quality and price, and I've tried all three, and they're all good. So I usually buy whatever floats my boat at the time. They come in a plastic sleeve, in quantities ranging from 18 to 24 patties.
So I'll cook four of these at a time, with melted cheese, and dish them into covered glass meal trays, along with some sort of mixed vegetables. This is what I often have for breakfast. While the cheeseburger patty and veggies are heating up, I fry a pasture-raised egg in grass-fed butter and throw it on top. Along with a half an avocado sometimes. It's a wonderful breakfast to start the day, full of healthy fat, protein, and other high-density nutrients.
And my cat Tango likes it, too. He sits by the table until I give him a couple small bites of juicy burger, and he wolfs them down (or, I suppose in his case, he "lions" them down…on the other hand, he's an orange tiger cat, so I suppose he actually "tigers" them down…but I digress…)
Anyway, it's become sort of a morning ritual, at least for four mornings each week.
But then, a few weeks ago, I ran out of frozen Costco burger patties, and it wasn't time for my big stocking run yet, and Costco is farther away and always totally packed and it's a madhouse shopping there…so I thought I'd try the Walmart Neighborhood Market across the street. Sure enough, they also had frozen hamburger patties, in the same type of plastic sleeve as Costco, but only 12 patties instead of Costco's 18 – 24. So I thought why not, I'll use these the next couple weeks until I can restock the good ones from Costco.
Now, to me, they obviously tasted like lower-quality hamburger. Not inedible, but just not as tasty and juicy. Dryer, patties falling apart, and bland. But this was a temporary fix, I'll deal with the downside for now, until I can restock the quality patties.
Except for one thing: to my surprise, Tango wouldn't eat it! As always, I gave him a few little bites of the burger, which he usually devours…but this time, he sniffed at it and walked away! And it wasn't just once, for several mornings running he did the same thing.
So, my cat refuses to eat hamburger from Walmart. I think that says a lot about what the hell kind of meat Walmart is selling. What's wrong with it? God only knows (or our pets, but they ain't talkin!).
Knowing that Tango won't touch the hamburger patties from Walmart–even though they seemed okay to me, just not very high quality–I doubt I'll ever buy them again.
Smart cat!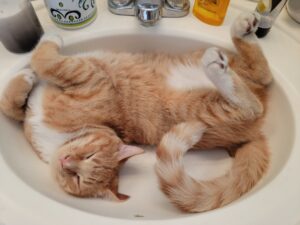 Tango enjoys a quick nap…in the sink!
---
A Note To Readers:
If you found this article (or any of the others, for that matter) interesting, informative, entertaining, etc., please consider subscribing to the INSIGHTS email newsletter: simply enter your email into the form located in the right sidebar (also under each post)—or, if you prefer, just us this simple quick sign-up form. Thanks! ~ Rand