Rolling The Bones
Rolling The Bones: 12 Tales of Life, Death, Loss, & Redemption
by Rand Eastwood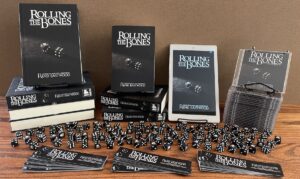 Book Description:
Sometimes we win
Sometimes we lose
But every day
We roll the bones…
Rolling The Bones is a collection of 12 subtly interconnected tales of dark fiction: eight short stories & three novellas—including a few award-winners—along with a short novel.
Spanning multiple genres—ghost stories, horror, psychological suspense, weird/twilight zone, coming-of-age, horror, sexual deviance, drama, romance, and more—so there's something for everyone!
The stories are highly character-driven: just ordinary people, dealing with everyday life—but who happen to experience extraordinary circumstances and/or strange phenomena along the way…
With psychological and/or supernatural elements keeping the reader guessing, Rolling The Bones is a stimulating and thought-provoking read to be sure!
It's not just a book, it's an experience!
So order your copy of Rolling The Bones today, and embark on a fascinating, dark (and sometimes disturbing) journey!
Now available in hardcover, trade paperback, and on Kindle.
WHAT READERS ARE SAYING:
"The stories are not so much "written" as "masterfully woven into a tapestry!"
"When one finds a book that is as revealing of life's intricacies as much as it surprises the senses with its finely crafted writing and detailed nuances, one has found a treasured addition to their library. This is such a book for me."
"This book is so well written I just couldn't put it down. Both the character development and plot twists are impeccably done. I just kept thinking, WOW!"
"Eastwood has gone above and beyond with the compilation of short stories."
"Rand Eastwood is rapidly becoming the thinking man's horror author!"
"The language, the structure, and the passion are off the scales!"
THE BONES:
The Traveler (Award Winner)
A Sweet Ride (Reader Favorite)
Hell or High Water
Forever Anna Day (Novella, Award Winner)
Request Denied (Reader Favorite)
The Crossing (Novella)
A Bearable Darkness of Being
Roughing It (Novella)
The Calling
This Old House
CHAMBERS
CATS: the number of the beast (Award-Winning Short Story, Now a Short Novel)
---
So order your copy today! (Also, you can follow my Amazon author page for notification of future book releases).